By: D.K Choudhary
PM Modi inaugurates 104th Indian Science Congress at Tirupati
i. Prime Minister Narendra Modi inaugurated the 104th Indian Science Congress at Tarakarama Stadium of Sri Venkateswara University in Tirupati in Andhra Pradesh on January 3, 2017.
ii. The theme for the five-day event is 'Science and Technology for National Development'. The Congress would conclude on January 7, 2017.
iii. Aim of the Congress: The basic aim of the 104th Congress was to focus on strengthening the scientific research in the country to make India among top three countries in the world in the field of Science and Technology by 2030.

iv. He appealed Research and Development institutions to strengthen their basic research in line with leading global standards to help achieve inclusive and sustainable growth.
v. PM also laid stress on the need to address the rapid global rise of Cyber-Physical Systems. There is a need to develop and exploit these technologies in services and manufacturing sectors.
vi. Six Nobel Prize winners along with 14,000 scientists and scholars from around the country took part in the mega event.
vii. The Prime Minister also felicitated Nobel laureates at the conclave. He also inaugurated 'Pride of India' exhibition as a part of the Congress.
viii. This is the second time that the city of Tirupati is hosting the event, first time being in 1983.
Trial run of India's first 700 MW PHWR expected in 2017
i. The trial run of India's first 700 MW Pressurized Heavy Water Reactor(PHWR) at Kakrapar, Gujarat, is expected to take placein middle of 2017.
ii. India's atomic power plant operator NPCIL is building four 700 MW PHWRs, two
each at Kakrapar Atomic Power Station (KAPS) in Gujarat and Rajasthan Atomic Power Station (RAPS) in Rajasthan.
iii. The construction of two 700 MW PHWRs at KAPS is at an advanced stage. The commissioning activities of the first unit have begun and the trial run of the first unit is expected to happen during the middle of 2017.
iv. Firstly the hydro test would be conducted in May-June 2017 followed by hot conditioning of the unit, which would happen around two-and-a-half months after the hydro test. After that the systems will be drained and dried.
v. The fuel loading is expected to happen in October 2017 and the reactor's criticality (first time starting of the nuclear fission process) is set to happen in November 2017. The unit is expected to start commercial operations early 2018.
vi. The project cost for the two 700 MW units is around Rs 11,500 crore. It is the biggest reactor being build by NPCIL which currently has been building 220 MW and 540 MW pressurised heavy water reactors.
Nuclear Power Corporation of India Limited (NPCIL)
♦ The Nuclear Power Corporation of India Limited (NPCIL) is a public limited company under the Companies Act 1956, responsible for the generation of nuclear power for electricity
♦  Headquarter:  Mumbai.
♦  Founded: September 1987
Union Government Keeps interest rates on Small Savings Schemes Unchanged
i. The Union Government has kept interest rates on Small Savings Schemes like PPF and Kisan Vikas Patra, Sukanya Samriddhi Account and Senior Citizens Savings Scheme unchanged for the January-March quarter.
ii. Interest rates on small savings are being reviewed every quarter since April last year. The interest rates on small savings will remain unchanged from the rates prescribed for the fourth quarter of 2016-17 starting from January 1, 2017, and ending on March 31.
iii. Interest Rates on Small Savings Schemes
1.Public Provident Fund (PPF): 8 percent annual interest rate.
2.5-year National Savings Certificate: 8 percent
3.Kisan Vikas Patra (KVP):7.7 percent with maturity in 112 months.
4.Sukanya Samriddhi Account Scheme: 8.5 percent annually.
5.5 years Senior Citizens Savings Scheme:  8.5 percent. The interest rate on the senior citizens savings scheme is paid quarterly.
6.Savings deposit: 4 percent interest annually,
7.Term deposits of 1-5 years: 7-7.8 percent that will be paid quarterly.
8.5-year recurring deposit: 7.3 percent rate.
Maharashtra Government Unveils the Portrait of Social Reformer 'Prabodhankar Thackeray at BMC
i. The Maharashtra Chief Minister Devendra Fadnavis unveiled the portrait of social reformer 'Prabodhankar Thackeray' in the general assembly hall of the Brihanmumbai Municipal Corporation (BMC) on January 2, 2017 and paid rich tributes to him.
ii. Keshav Sitaram Thackeray, famously known as Prabodhankar was born in September 1885. He was a social reformer, author and key leaders of the Samyukta Maharashtra Samiti which successfully campaigned for the linguistic state of Maharashtra. He is the father of late Shiv Sena supremo Bal Thackeray.
iii. Before this, the corporation hall had only two portraits, one of philanthropist and pioneer of Mumbai's development Nana Shankarseth and other of Dadasaheb Donde, one of the leaders of the Samyukta Maharashtra movement.
iv. Besides, a revamped portal was also launched of the civic body by the Civic Commissioner Ajoy Mehta along with several other initiatives to facilitate Ease of Doing Business while an Automatic Napkin Vending Machines was also launched.
Ministry of Sports Constitutes Committee to suggest improvements to National Sports Code
i. The Minister of State (I/C) for Youth Affairs and Sports Mr Vijay Goel constituted a committee on January 2, 2017, to suggest improvements in the National Sports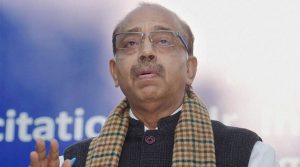 Development Code functioning of sports federations.
ii .The decision comes after the recent controversial appointments of Suresh Kalmadi and Abhay Chautala as life presidents of Indian Olympic Association.
iii. The move aims to avoid any further disturbances caused by the decisions of any sports council and maintain good governance, transparency and cleanliness in sports.
iv. The committee, which will be chaired by Sports Secretary, Injeti Srinivas, will submit its report within one month on the basis of suggestions and feedback given in these meetings so that sports bodies act according to the public expectations for the promotion of sports in the country.