1. K9 Vajra And M777 Howitzer Guns Inducted Into Indian Army 
i. Indian Army inducted new artillery guns and equipment, including K9 Vajra and M777 howitzers, at Deolali artillery centre in Nashik, Maharashtra. The induction ceremony took place in the presence of Defence Minister Nirmala Sitharaman and Army chief General Bipin Rawat.
ii. Besides, M777 American Ultra Light Howitzers and the K-9 Vajra, the third gun system inducted is the 'Composite Gun Towing Vehicle' for towing some of the existing guns in service with the country. The guns have a range of 30 km. 
2. 25th Edition of SIMBEX Begins in Andaman Sea and Bay of Bengal
i. India and Singapore have started the 25th edition of SIMBEX (Singapore-India Maritime Bilateral Exercise) off Andaman Sea and Bay of Bengal.
ii. According to the Defence Ministry, SIMBEX 2018 will be the "largest since 1994 in terms of scale and complexity".

3. Meghalaya Announces Rs 378-cr Investment in Aqua Mission 2.0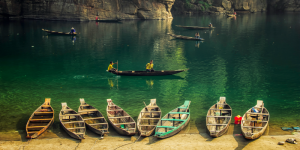 i. The Meghalaya Government announced Rs378 crore investment in the second phase of the State's flagship aquaculture mission aimed at cutting down fish imports into the hill State.
ii. The mission — Meghalaya State Aqua Mission 2.0 — was announced by Fisheries Minister Comingone Ymbon at the 5th state aqua festival held in Shillong at the U Soso Tham auditorium premises.
Meghalaya CM: Conrad Sangma, Governor: Tathagata Roy.
4. India's Unemployment Rate Jumps to 2-Year High of 6.9%: Report 
i. Unemployment rate in the country rose to 6.9% in October, the highest in two years, according to a report by the Centre for Monitoring Indian Economy (CMIE). The estimated number of people employed during October 2018 was 397 million.
ii. This was 2.4% lower than the rate in October 2017. Around 407 million individuals were estimated to be employed during the same period in 2017. Only 39.5% of the adult population was employed in October 2018.
Santosh Kumar Gangwar is the present Minister of State of the Ministry of Labour and Employment.
5. Ayodhya Deepotsav 2018 Enters Guinness Book of World Records 
i. Ayodhya Deepostav 2018, an event organised to mark Diwali celebrations in Ayodhya town – has entered Guinness Book of World Records.
ii. A Guinness certificate was issued to UP government's tourism department and Dr Ram Manohar Lohia (RML) Avadh University, Faizabad, when over three lakh clay lamps were illuminated at Ram Ki Paidi on Chhoti Diwali as part of Deepotsava.
iii. Uttar Pradesh Chief Minister Yogi Adityanath had also announced that Faizabad district will now be known as Ayodhya. 
6. CCEA approves disinvestment of 100% Govt stake in Dredging Corporation of India
i. The Cabinet Committee on Economic Affairs approved 100% strategic disinvestment of the government's equity in the Dredging Corporation of India Ltd. Presently, the government of India holds 73.44% shares in Dredging Corporation of India Limited.
ii. Union Cabinet gave its approval to Amendment to the Central Universities Act, 2009 for setting up of Central Tribal University in Andhra Pradesh. 
iii. Cabinet also approved leasing out six airports, namely Ahmedabad, Jaipur, Lucknow, Guwahati, Thiruvananthapuram and Mangaluru for operation, management, and development under Public Private Partnership.
7. Vice President Inaugurates Indian War Memorial in France 
i. Vice President M Venkaiah Naidu is on a three-day visit to France. He inaugurated Indian War Memorial at Villers Guislain. Earlier the Vice President attended the Indian community reception in Paris.
ii. The main ceremony at Arc de Triomphe monument in Paris was presided over by the French President Emmanuel Macron. The Vice President also met the Director-General of UNESCO, Audrey Azoulay.
France Capital: Paris, Currency: CFP franc, President: Emmanuel Macron.
8. Book On Mouth Cancer 'Arivu' Released 
i. November 7 is observed as National Cancer Awareness Day in India each year.
ii. Dr Murali Mohan Chuntharu, a Dental Surgeon and also DK Home Guard Commandant has written a book named "Arivu", which explains about Mouth Cancer and prevention of the disease.

9. Arunima Sinha Gets Honorary Doctorate In The UK
i. Arunima Sinha, the Indian mountaineer who became the world's first woman amputee to climb Mount Everest in 2013, has been awarded an honorary doctorate by a prestigious UK university for her inspirational achievements.
ii. Ms Sinha, 30, was conferred with the honorary doctorate by the University of Strathclyde at a graduation ceremony in Glasgow.
10. RBI Plans Ombudsman For Digital Payments
i. The Reserve Bank of India is likely to establish an ombudsman for digital payments by March 2019 to take the load off the increasing number of complaints currently being handled by the banking ombudsman.
ii. Given the rapid adoption of digital payments across the country, RBI in its Annual Report for 2017-18 had announced that it was considering a plan to establish a separate ombudsman to handle consumer complaints related to digital transactions.